Auctioning off ORIGINAL ART and AMG® COLLECTIBLE Items

RULES and INSTRUCTIONS are as follows:
1. Interested participants in AMG®'s 7 DAY AUCTION must register at the link below where you will fill out your NAME, EMAIL, PHONE and STARTING BID, then submit.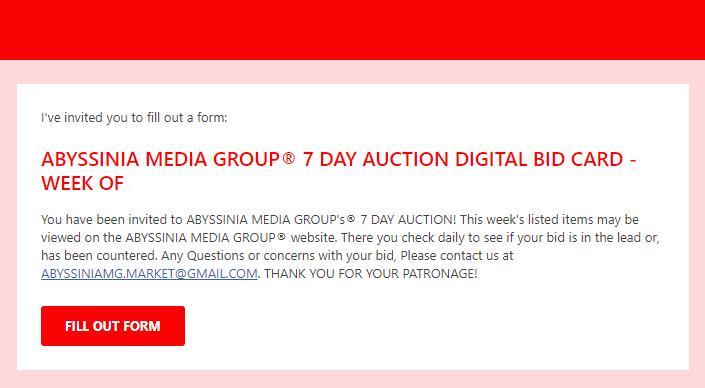 3. CLOSING BID DATES are specified on your DIGITAL BID CARD. A notice of the HIGHEST BIDDER for each auctioned item will be posted daily with ITEM NUMBER on the ABYSSINIA MEDIA GROUP® WEBSITE.

4. At the end of the 7 DAY AUCTION CLOSING, the HIGHEST BIDDER will be posted HERE, personally notified via information provided, FORM OF PAYMENT is then transacted and MAILING info exchanged.

5. ITEMS NOT CLAIMED or BOUGHT by HIGHEST BIDDER within 1 DAY (24 Hours), AFTER CLOSING BID DATE, their bid is FORFIETED and the Auction Item's Claim will then go to the NEXT HIGHEST BIDDER! UNCLAIMED and UNPAID items will be RETURNED TO AUCTION!
STAY WOKE, SAFE and SANE!